Ultroll Recap: UMF Miami 2014
Trending this week: Ultra Miami Recap! Check out who performed, and which record-breaking producers raised the bar for every new festival!
Ultroll Recap: UMF Miami 2014
Nearly-every music publication jumped at the opportunity to highlight the controversial set from Deadmau5, as he closed Saturday Night at UMF Miami. I will return to Zimmerman's clear statements about the EDM Scene toward the conclusion of this piece; as this week, I would like to begin with some of the incredible sets from Ultra Miami that deserve emphasis, before, and after, Saturday's controversial closing set.
For those unable to travel to Miami this year, Ultra brought back UMF TV—which live-streamed the festival, moving between stages for us to catch fragments of simultaneous sets. UMF did a great job enabling us to bring the party into our own homes (even though they switched stages mid-way through Gaia's epic set); with Armin's addition to offer a live-feed of the ASOT Stage on Sunday, we were fully stocked. Ultra Miami kicked off this year with huge opening sets from Showtek on the Main Stage, 3LAU on the Worldwide Stage, and The Partysquad on the Live Stage (there were four more stages!).
 While many people focused on the Main Stage, as  they should, there were incredible producers and  DJs featured on the other six stages. The Live  Stage presented artists such as: Waka Flocka,  M.I.A., MGMT, and closing the stage Friday—  French techno-genius, Gesaffelstein. Having his  own stage in his name, Carl Cox closed His stage  both Friday and Saturday. He hand-selected: Jon  Rundell, Luciano, Pete Tong, Umek, Dubfire, and  several others that did not disappoint on Friday  and Saturday. Another stage that deserved huge  recognition was the Ultra Worldwide Stage. Friday  featured 3LAU's opening; Datsik, Adventure  Club,  and Borgore, prepared the crowd for Carnage's  closing set (he was not arrested for  refusing to  turn down, this time).
Lastly, Friday's Main Stage lineup was stocked with some of the biggest names in Electronic Dance Music. As mentioned previously, Showtek opened the festival with perfectly mixed tracks, as they always do; followed by Diplo, Eric Prydz, Kaskade, and Tiësto to close Day 1. Notably, Eric Prydz revealed a revolutionary stage design named—HOLO, which raised the bar for every festival in the future. Without over-stating the obvious, Kaskade's set can easily be characterized as one of the best from the weekend. There were mixed reviews about Tiësto's Day 1 closing set. Some were of the opinion that he may have selected the wrong tracks to reveal during a closing set. While he did play a slower track toward the end of his set, it will without-a-doubt be heard everywhere we go in the coming months. His back-stage collapse prior to Ultra did not hinder his expectedly-incredible performance.
Day 2 highlighted some of the most anticipated sets of the festival. With the news of Avicii's health-attending absence, the world wondered who would replace the Grammy-nominated artist. When it broke that Deadmau5 would be saving the day, the numbers flocked to the Main Stage, as well as viewers on UMF TV. The Main Stage presented incredible performances from Blasterjaxx, W & W, Martin Garrix, Krewella, Nicky Romero, Alesso, Above & Beyond, and Armin van Buuren, all in preparation for Deadmau5.
The Ultra Worldwide Stage brought some huge Hip-Hop-inspired, hardstyle/dubstep performances from Just Blaze, Bro Safari, GTA, DJ Snake, RL Grime, and Flosstradamus; all in preparation for Dillon Francis to close the stage. The evening of Ultra Day 2 brought some heavy rain in Miami, nearly-killing the vibe of the huge closing performances; such as: on the UMF Radio Stage, where Dannic and Dyro were set to show us some Revealed Recordings magic, the rain left all but 20 people in front of the booth. In their post-set interview, they even admitted to leaving the festival in direction of their hotel. After an abrupt call-back to the festival (likely from Armin's rain-stopping qualities), the number one DJ in the world—Hardwell—joined the two on the UMF Radio Stage, and brought thousands of people back.
 Taking over Carl Cox's Mega Structure Stage for  Day 3 of Ultra, Armin van Buuren's 'A State of  Trance' featured nearly 12 hours of world-class  trance. Jochen Miller opened the stage, followed  by genre-defining artists such as: Cosmic Gate,  John O' Callaghan, New World Punx, and Paul  Van Dyk closing the ASOT Stage. Between New  World Punx and Paul Van Dyk, we were welcomed  to the live-premier of Gaia. All of us trance-loving  ragers already knew Gaia was a pseudonym of  Armin van Buuren, but what we did not expect was  a second leather-robed figure beside him. As  mythology enlightens, Gaia was a personification  of Earth; which only further explains the role Armin  van Buuren has appropriated (he stopped the rain  for his Main Stage set on Day 2—performing under his real name). Gaia's mysteriously cloaked addition was Benno de Goeij, the Dutch trance producer who has collaborated with Armin and Jochen for nearly 15 years.
Another stage that housed some of the biggest EDM artists on Day 3 was the Ultra Worldwide/Ultra Korea Stage. With early-afternoon sets from Sandro Silva, TJR, MAKJ, and Clockwork, Ultra Worldwide/Ultra Korea heavily competed with the Main Stage. As Day 3 began to close, the Ultra Worldwide/Ultra Korea Stage showcased Danny Avila, Mat Zo, Cedrick Gervais, Gareth Emery, and closing producer/DJ—Fedde Le Grand.
 The Main Stage of Day 3 supported one of the  most anticipated duos of the festival. Composed of  hardstyle/dubstep master, Diplo, and Brostep  architect, Skrillex, Jack U's set was ground-  breaking. Their 48 min set showed us what to  expect from the future collaborations we are  looking forward to. Followed by Afrojack's album-  preview set, with a live feature of the talented  Matthew Koma, Swedish House Mafia member—  Steve Angello proceeded. David Guetta followed,  and showed how he is a true professional—always  playing to the crowd with no regrets. Lastly, the  number one DJ in the World—Hardwell—was honored with the responsibility of closing UMF Miami 2014. He brought a record-breaking 250,000 ragers (live and UMF TV) to his closing set. Prior to his set, he noted that 90% of his set would be unreleased tracks, and he delivered. Using build-ups everyone was familiar with, Hardwell's drops were fresh, and what we expected from the world's favorite DJ. Some of the drops were collaborated with W & W and Ummet Ozcan, and will be released on Beatport in the coming months. His final track of the festival was Spaceman, and he earned every right to play to the expectations.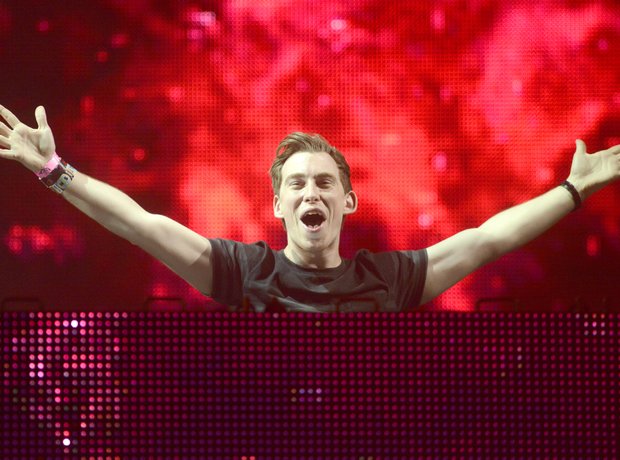 Now for Deadmau5… As I wrote in my first article, Deadmau5 is known for his public disposition for how EDM is transforming. In a sense, I understand his perspective, but his methods of expression are controversial, to say the least. In his Day 2 closing set, he played tracks we don't often hear, bringing some of the old-school electronic back into the game. This was a great statement to make, if it ended there. Prior to his set, Deadmau5 sarcastically Tweeted, asking if Martin Garrix will play 'Animals' during his set (earlier that afternoon). Not only did Martin Garrix earn the right to play His track, 'Animals' was played by several artists throughout the festival. When Deadmau5 dropped 'Animals' in his set, he incorporated a drop mimicking 'Old McDonald Had a Farm.' Although this was a stab at Garrix, the mash-up of Avicii's 'Levels,' with Deadmau5' own 'Ghosts n' Stuff,' did not seem to hate on Avicii—who he replaced that evening. Perhaps, Deadmau5 got what he wanted: for people to know that he believed 'Animals' and 'Levels' are over-used in sets, and have become commercialized. Since Deadmau5 made no previous Twitter-mention of Avicii, as he did Garrix, it was the initial reaction of the viewers, who came to those conclusions of trolling. Maybe, in the back of everyone's mind they agreed with Deadmau5, which explains their immediate understanding of the irony in his set? Tiësto defended both producers immediately (Garrix is also signed with Tiësto's Label—Musical Freedom), calling-out Deadmau5 for his controversial set. Deadmau5 made a few more enemies after his set, but I don't think that he cares. He made his statements about the commercialization of EDM, and how the trust-fund kids take up the front rows—loud, and in front of hundreds-of-thousands of people. He got people talking about the 'Issues,' as 'issued' by Deadmau5. Some people may have anger toward him now, but he will remain the same controversial, old-school, producer/DJ that made him an EDM icon.