June 5th Beatport Top Ten
Find out what's Trending this week with Beatport's newest Top Ten Bangers!
June 5th Beatport Top Ten
With festival season raging in high gear, there are tracks being played around the world that have earned their spot in Beatport's Top Ten this week. Featuring tracks from Spinnin, Revealed, and Protocol Records, this week's Top Ten is packed with electro-house bangers to anthem our summer. Let's not forget the multi-week presence of Oliver $ and Jimi Jules' deep-house chiller, which has comfortably nested within the Top Ten.
10. Setting the bar this week—"Bounce Generation"—produced by TJR and VINAI. Amidst slight debate, "Bounce Generation" has been argued to share similar themes to Showtek's "Bouncer," and other electro-house tracks released earlier in the year. As I am not privy to production dates of either producer, Showtek released their track prior to TJR and VINAI, causing many critics of The Scene to highlight the genre's ill-gotten stereotype of 'sounding the same.' While I prefer TJR and Vinai's anthem, Showtek has most certainly earned their spot amongst great producers. The collaborated track of "Bounce Generation," while only commencing the ten-spot, is sure to be included in nearly every set list of this festival season.
9. You are not alone in your bewilderment upon seeing the release of "Love Never Felt So Good," credited to: the one-and-only King of Pop—Michael Jackson. Nearly five years after his passing, Michael Jackson's legacy reigns supreme as his unreleased track reached the public last month, immediately finding its home in the Billboard Top 10. Originally recorded in 1984, "Love Never Felt So Good" was venerated during this years' iHeart Radio Award Show, accompanied by 'burn(ing)' supplements from Usher (the track was later released featuring Justin Timberlake, in a transposed duet with The King). As a result, we are directed to Dutch Remix Master—Fedde Le Grand. Ensuring the perfect balance of electricity and pop, Fedde's remix achieved recognition from music-aficionados, who are otherwise unfamiliar with the supremacies of electronic dance music. Successfully defeating the mainstream breach, Fedde Le Grand's remix is only the beginning of honorable tributes in homage of The King of Pop.
8. Twenty-five-year-old progressive-house producer, and record-label owner—Nicky Romero—is credited alongside John Christian, with his track, "Next Level." Played by numerous DJs headlining UMF Miami and EDC New York, this track may be our new summer anthem. Christian is a classically trained musician, and graduate from the Dutch Academy of Music—only further proving his ability to produce huge dance music bangers under Romero's Protocol Recordings. We are to expect an additional collaboration later this year.
 7. Several months have passed since "Pushing On" debuted from Oliver $, Jimi Jules, and Defected Records. Their collaborated track immediately infiltrated Beatport's Top Ten, appreciating the potential for deep-house track of the year. Their extensive residence in the Top Ten has characterized these producers in the likes of Frankie Knuckles and Derrick May.
6. Next: Jay Hardway's anticipated track, "Bootcamp." Released the day before EDC New York, "Bootcamp" could be heard all-across MetLife Stadium's four stages. Rain couldn't stop the buildup from reaching monstrous decibels, as the iconic piano-roll solidified this track in Beatport's six-spot. As clouds loomed over New Jersey, it was his Mainstage electro-beats which rescued us from turning down. Hardway already has several collaborations with fellow electro-house producer—Martin Garrix, and continues to illustrate the incredible talent ascending from Holland.
5. Spinnin Records' next contribution to Beatport's Top Ten this week is: Moguai's "ACIIID." Inching its way into the Top Ten from the time of its May 12th release, "ACIIID" is the perfect ingredient for summer raging. The German-born producer has earned a respected reputation, substantiated by his collaborations with genre-defining producers: Deadmau5, Moby, Afrojack, and Dimitri Vegas & Like Mike. His 19-year career shows no allusion of slowing down; he has continued to produce banger-after-banger, sound-tracking our raves.
4. Patrick Topping's "Forget" currently rests at the four-spot of Beatport's Top Ten Tracks. For a chart which varies on a daily basis, "Forget" is exemplified as one of the best tech-house tracks of the summer. Sexy vocals parallel a distinctive techno-sound to construct a track that appeals to people unfamiliar with the techno-sub-genre. Tech/deep-house sounds are beginning to wash ashore in North America—shuffling across the Atlantic from the European Club Scene. In a lagging, trend-adopting culture within electronic dance music, new-house-sounds are beginning to appeal to the Western Ear, and infiltrate our playlists.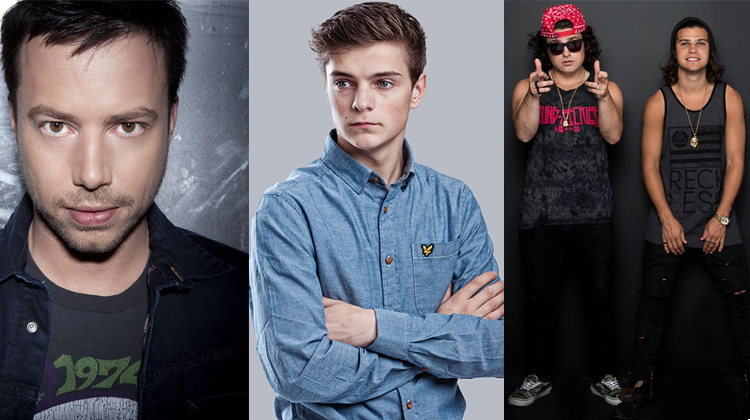 3. Frequent members of the Top Ten Club—Sander van Doorn, Martin Garrix, and DVBBS, collaborated in production of their track, "Gold Skies." Featuring vocals from Aleesia—reminiscent to styles of Kid Cudi—there was no doubt that this banger would reach anthem levels. This was another track that had been immensely prevalent in sets across EDC New York, but it never seemed overpowering. Say what you will about Garrix, but to be backed by a pioneer such as Tiësto—his 'ghost-productions' must cost the headliner a ridiculous amount of money.
2. Few 'Authentic' DJs remain in today's Dance Music Scene. Authentic—the original jockeys who carried boxes of vinyl records to every show, and using their skills to match beats, rather than syncing BPMs with the press of a button. Where Sasha (aka Alexander Paul Coe) has spun through most of the developing DJ-technologies, many (myself included) cannot compete with his vast experience and mastery over the 1s and 2s. His newest remix of London Grammar's "Hey Now," exemplifies the tranquil beauty of deep-house sounds.
1. The number-one spot is currently controlled by Revealed Recording stars—Paris Blohm and Taylr Renee—and their track, "Left Behinds." Previously producing colossal, collaborated-bangers on Romero's Protocol Recordings label (Paris Blohm—"Colors;" Taylr Renee—"Howl At The Moon"), Blohm and Renee partnered to bring the 'Traditional Protocol Sound' into Hardwell's Revealed Label. The track's upbeat synths and sexy vocals prove to be the impeccable anthem to kick off June's EDC Las Vegas.