Music Festivals & Raves-2014
Electric Daisy Carnival New York 2014: Summer's Triumph of Lineup over History
Whichever festival you spend you're Memorial Day Weekend, be sure you make the choice without regrets!
Electric Daisy Carnival New York 2014: Summer's Triumph of Lineup over History?
Heavily competing with SFX Entertainment's Mysteryland USA, Insomniac Events' Electric Daisy Carnival has infiltrated the Electronic Music Festival Market in full force. Founder and CEO—Pasquale Rotella—is famed for his festivals of epic proportions, including: Electric Forest,Audiotistic,Beyond/Escape/Nocturnal/White Wonderland, and most notably, Electric Daisy Carnival. Travelling the globe with his incredible Carnival-themed music festival, Rotella has pitched his EDC tents in more than eight different locations, and is included as one of the largest music festivals the world has to offer. This year, Rotella will go head-to-head against SFX's Robert Sillerman, as they vie for Memorial Day Weekend festival-attendance domination. With slightly more than a week until Day 1, we are without indication as to who holds the slight advantage; we are offered Mysteryland's inaugural North American debut on the historic 1969 Woodstock festival-grounds, alongside Electric Daisy Carnival's Lineup—featuring many of the world's elite headliners. In continuation of last week's Mysteryland USA report, the full comparison resumes with this week's Electric Daisy Carnival.
Although slightly deceiving as to the Festival's genuine location, EDC NY will actually take place alongside New Jersey's MetLife Stadium. I say "Alongside" specifically, seeing as the festival's stages will be fixed on the stadium's (concrete) parking lot, directly adjacent to MetLife Stadium. Contrasting last year's Citi Field, Electric Daisy Carnival has, perhaps, descended a rung within the Ladder of Festival Superiority in consequence to this downgrade. With the resultant discomfort from extended dancing on a concrete floor, placing the festival outside of the stadium also eliminates Boxed Sections that have been expected by VIPs—who dished out the extra cash for those extra amenities. What exactly will EDC NY/NJ offer to compensate its VIPs for their seemingly-excessive ticket price? Don't worry, you will have separate entrances and restrooms, access to a cash-only bar (not complimentary), and viewing decks overlooking its four stages. I almost forgot—a lanyard. Admittedly, this has assumed the tone of a cynic; don't get me wrong, I will be one of the thousands in attendance for Electric Daisy Carnival New York, just not amongst the 'exclusive' VIPs, who paid more than double the amount of a general admission ticket.
Perhaps, one of the most anticipated features of Insomniac's EDC NY—its lineup. Featuring artists such as: Afrojack, 3LAU, Blasterjaxx, R3hab, Bassnectar, and Hardwell to close Day 1; Andrew Rayel, Borgore, Calvin Harris, Nero, Sander Van Doorn, Steve Angello, and Tiësto to close Day 2, Rotella has ensured an epic rager that unequivocally competes with Mysteryland's prized venue. Prior to each festival's lineup-release several months ago, it was rumored that artists were required to choose one—and only one—festival of which to perform. Rumors took on qualities of truth when top-headliners: Nicky Romero, Dimitri Vegas & Like Mike, Steve Aoki, and Kaskade, were observed as EDC-absent. In addition to the names commonly thrown around The Scene, there are several artists that deserve a closer look as they prepare their name-defining set.
Day 1's lineup is anticipated to amaze—and introduce—festival season, for those unable to attend Miami's Ultra Music Festival in March. One artist beginning his Electronic Music ascension of fame is OWSLA-signed producer, Alex Metric. The English, electro-house producer, began 2014 with three released EPs (Ammunition Pt. 4, Heart Weighs a Ton, Hope), and is distinguished by his retro-funk sounds. His contributing half of duo, The Alexanders, Metric and Yuksek have teamed together, producing the banger "Don't Miss," merely alluding to the immense success of their future.

A second collaborated production team featured this year is that of Yellow Claw. If there were not enough colossal talent surfacing from the Netherlands, the Dutch trio runs the trap with their face-melting hardstyle/dubstep tracks, and hip-hop nuances, appealing to a wide range of listeners. Most-recently famed for their moombahton-esque track, "Shotgun," with Spinnin' Records, and their May 26th collaborated release with Mightyfools, "Lick Dat," Yellow Claw is guaranteed to drop the bass more than once in their Day 2 set of Electric Daisy Carnival NY/NJ. I suspect we are only beginning to hear the greatness to be produced by Dutch-trio—Yellow Claw.

For the trance-lovers of our generation, I am certain you have already experienced the ingenuity of our Modern Day Mozart—Andrew Rayel. Whether following his personal account on every music-streaming platform, on Armin's A State of Trance/Armada Music Label, or Above & Beyond's Group Therapy Podcast, Rayel's unique sound launched his career at the young age of 17. Incorporating upbeat, progressive synths and vocals, Rayel has produced massive trance-bangers such as: "Aether," "EIFORYA," and "Goodbye," naming only a few; supplemented by his imaginative remixes of Armin van Buuren, Markus Schulz, Ivan Gough & Feenixpawl, and others. Currently ranked 28 in DJ Mag's Top 100 DJs, Rayel climbed 43 spots from last years' poll, affirming Armin's vision of his 17 year-old 'Highest-Climber' signee.
As Insomniac's premier festival, EDC will showcase some of the most astounding LED-illuminated art, both static and kinetic. From the accentuated, carnival-themed rides, to interactive-art installments, Rotella has established a guaranteed face-melting experience within his Electric Daisy Carnival. Controversially, Rotella has publicly denounced—and prohibited—ALL brought-in LED accessories for any of his sponsored events. His justification, albeit tremendously excessive, claims a direct correlation between light shows given by festival-attendees with gloves / hula hoops/ any LED accessory, to their subsequent drug use. His additional claims reason that 'side-shows' detract from the festival's role of providing the best entertainment possible. Alienating a large demographic of ragers, Rotella is unconcerned with the potential losses incurred from absent sponsors and Insomniac Events festival-goers. This controversial prohibition has placed a spotlight over Rotella, and his Electric Daisy Carnival. We will soon see the repercussions, if any, of his radical approach to guarantee a drug-free festival.
With the facts presented over the previous weeks, and with only eight days until Mysteryland USA and Electric Daisy Carnival NY/NJ, I am excited to start 2014's festival season with EDC. When you're amongst your crew, raging to the world's best producers and DJs, nothing else is relevant: not the absence of face-melting lightshows offered by the stranger beside you, or even the 22 hours of dancing atop a cement parking lot. Ivan Gough & Feenixpawl's "In My Mind" vocalist—Georgi Kay—sang it better than I can philosophize: In my mind, in my head, this is where we all came from. The dreams we had, the love we shared, this is what we're waiting for.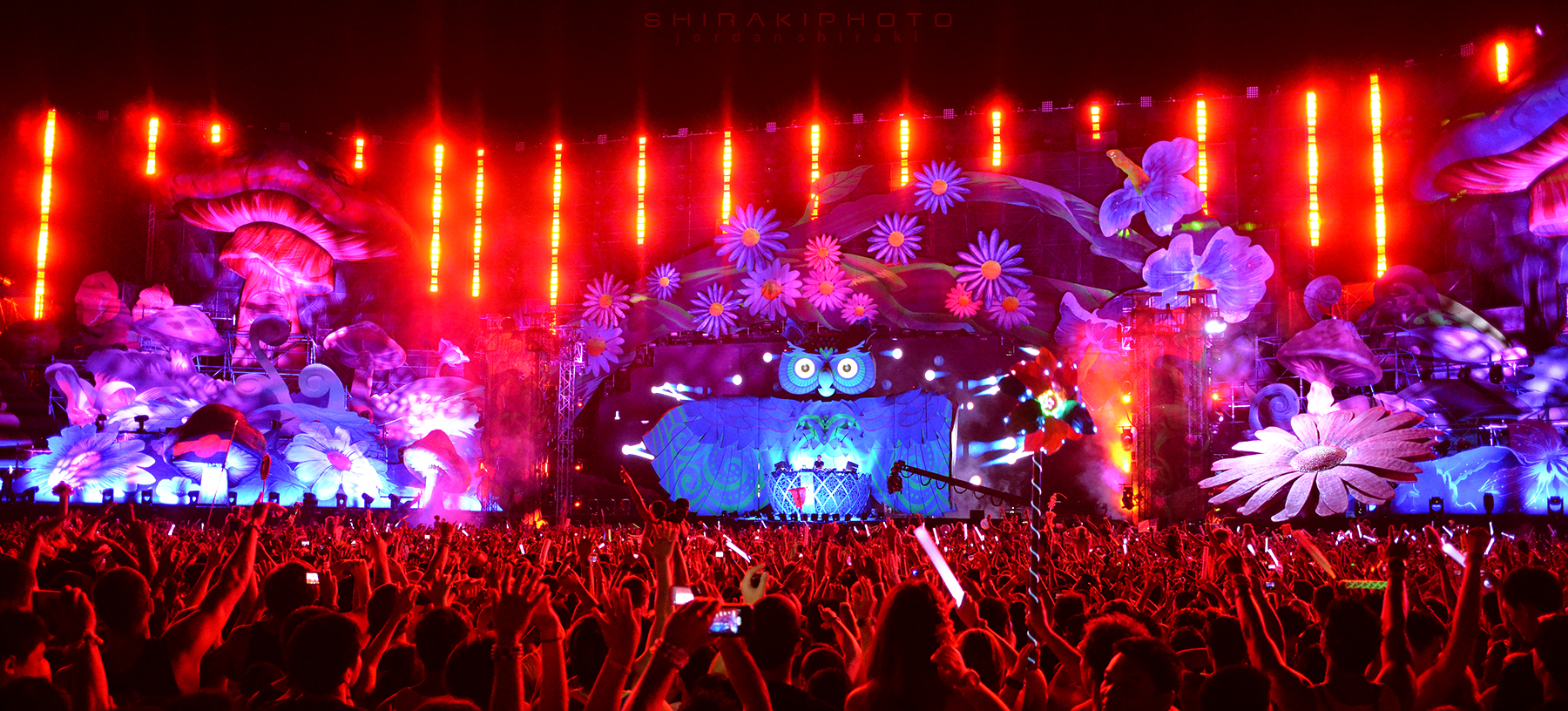 Look out for us at EDC, and join our rage crew!